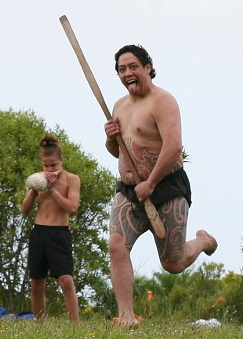 The Dawn taiaha wānanga (seminar) held at Ngā hau e whā a Paparārangi marae, between the 17-19 November 2017, was another success (we had out first one last year at the marae).
We were blessed again to have Boy Thomson guide and oversee the training and operation of the wānanga from start to end.
We had 9 tauira (students) and 7 taiaha tutors teaching on the whenua (ground), with two senior taiaha members looking after the whare-kai (kitchen).
The wānanga began with a one-man wero (challenge) and haka pōwhiri at our whakaeke (welcome), Friday afternoon.
The tauira then stayed up until midnight learning taiaha technique and sequences. We then all arose at 3 AM to go for a run (bare-feet), until we welcomed the Dawn with karakia (prayer) and then trained through to 4:30 PM.
We then went to the Porirua pools for a soak before returning for a lovely hākari (banquet). Two tutors gave talks in the evening, one about his pūhoro (ta moko) and the other about his journey in doing taiaha training.
Sunday morning was spent preparing to pōwhiri our manuhiri (guests) and whānau (families), which again, as a whānau we did, this time we sent out a 3 man wero and then our tauira and tutors did a taiaha presentation to our whānau.
The wānanga was then concluded with karakia before we all went in to enjoy pizza for lunch.

Ongoing training continues at the marae on Sundays for those tauira who have completed a Dawn from 1 PM - 2 PM. There is no training during long weekends and holidays, as this is considered whānau time.